200,000+ happy customers • 24 years experience
Regular price
Sale price
$57.00
Unit price
per
Sale
Sold out
If you're an organization freak like me who just loves having everything all nice and tidy in one spot, this 33-page cleaning binder printables set is for you!
It will organize your life in an incredible way, making sure that you can find and get to your most important information quickly. Because who doesn't hate paper clutter? And paper clutter seems to be the #1 monster in so many homes.
This binder is one great way to not only tame that clutter, but help you have a more streamlined approach to cleaning your home!
Pages include: 
Cover
Spines (1", 1 1/2", 2", 3", & 4")
To Do List
Notes
Cleaning Supplies Shopping List
Cleaning Supplies Inventory
Cleaning Supplies Review
Weekly Cleaning Checklist
Yearly Cleaning Calendar
Family Chore Chart
Seasonal Cleaning Checklist
Monthly Cleaning Schedule
Laundry Symbols Guide
Cleaning Tracker
Kitchen Cleaning Checklist
Bathrooms Cleaning Checklist
Living Room Cleaning Checklist
Bedrooms Cleaning Checklist
Dining Room Cleaning Checklist
Outside Cleaning Checklist
Entryway & Porch Cleaning Checklist
Closet Cleaning Checklist
Laundry Room Cleaning Checklist
30 Day Declutter Challenge
Spring Cleaning Checklist
Laundry Stickers Sheet 
Get the matching stickers for this binder here.
Instant digital download (nothing will be shipped).
View full details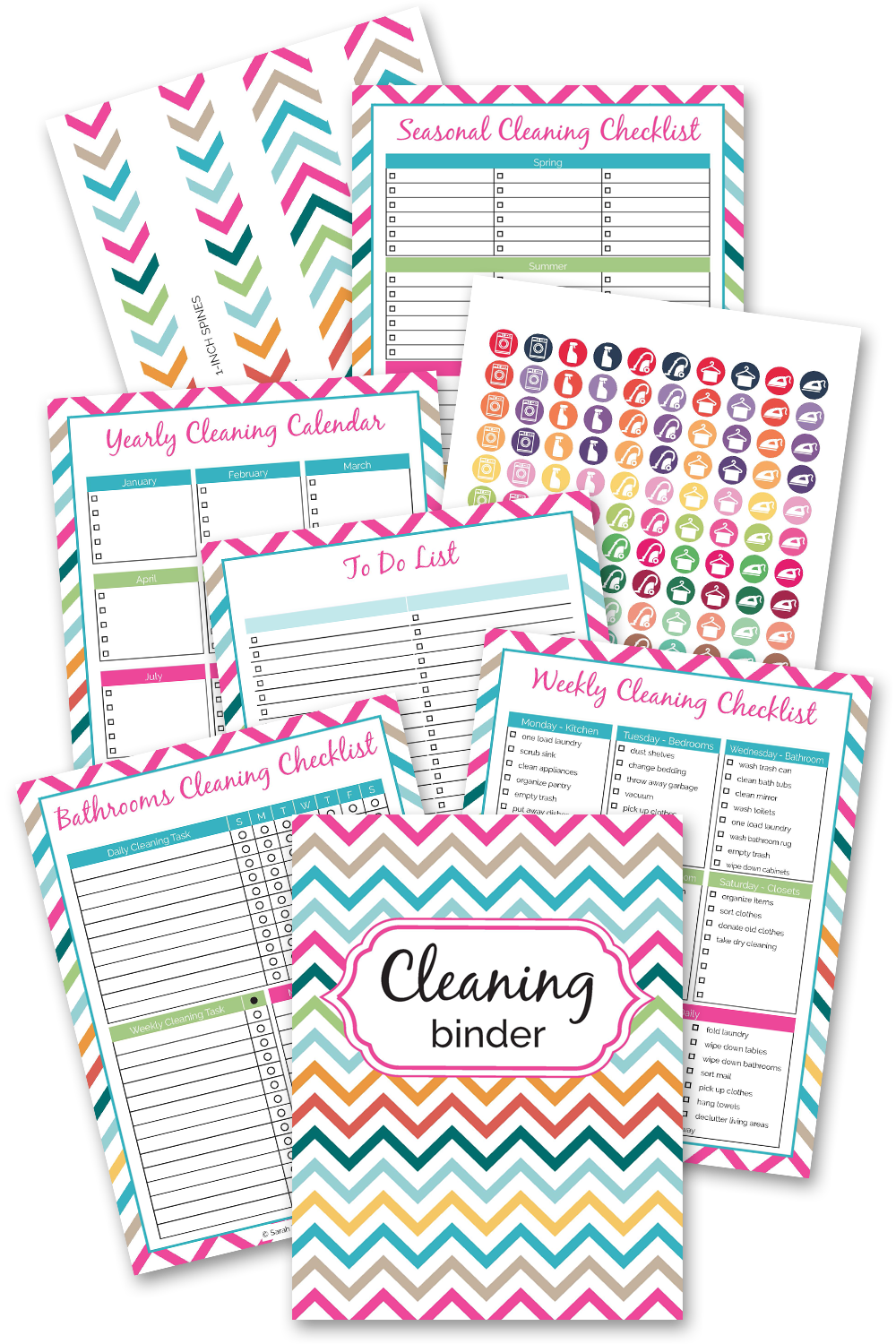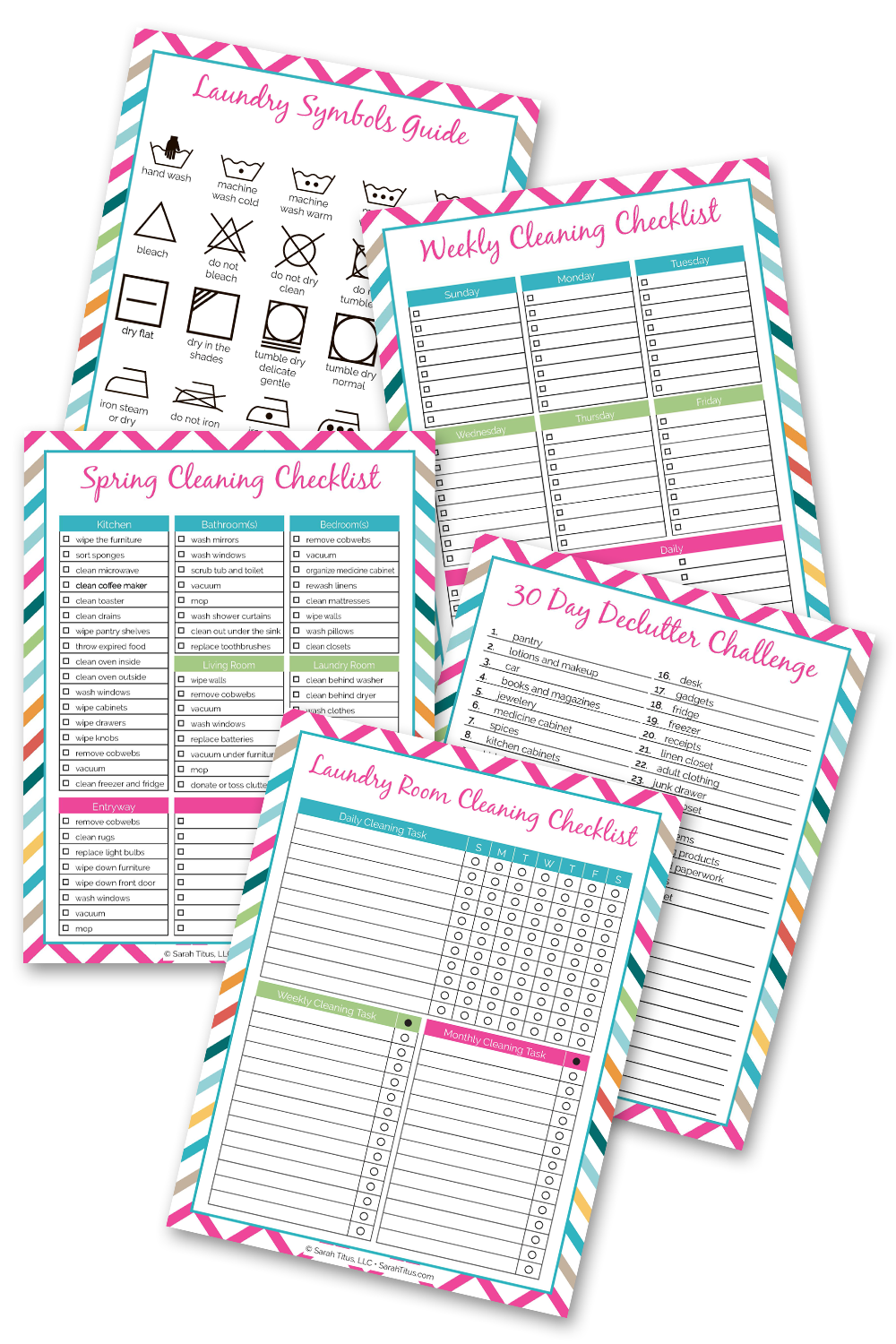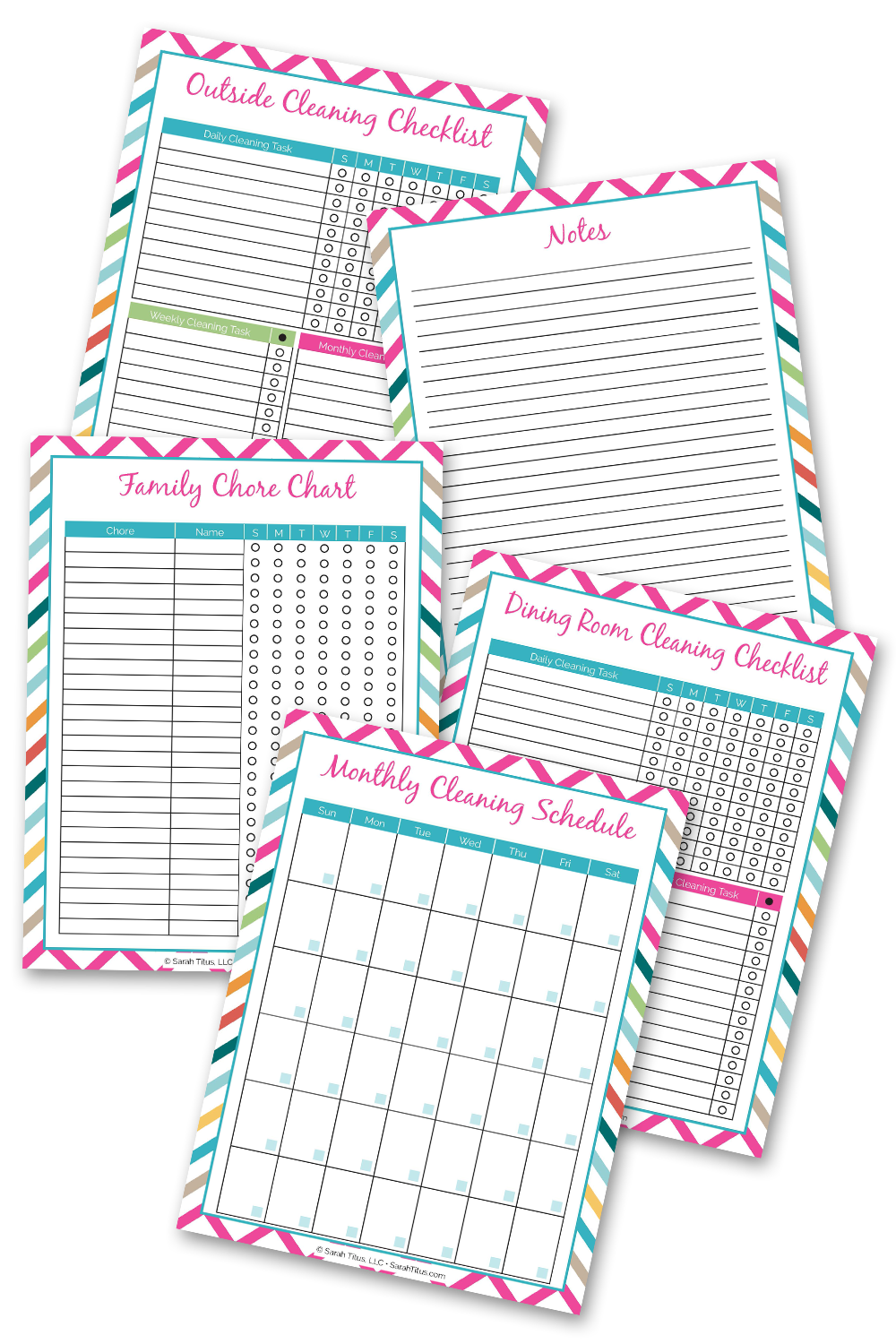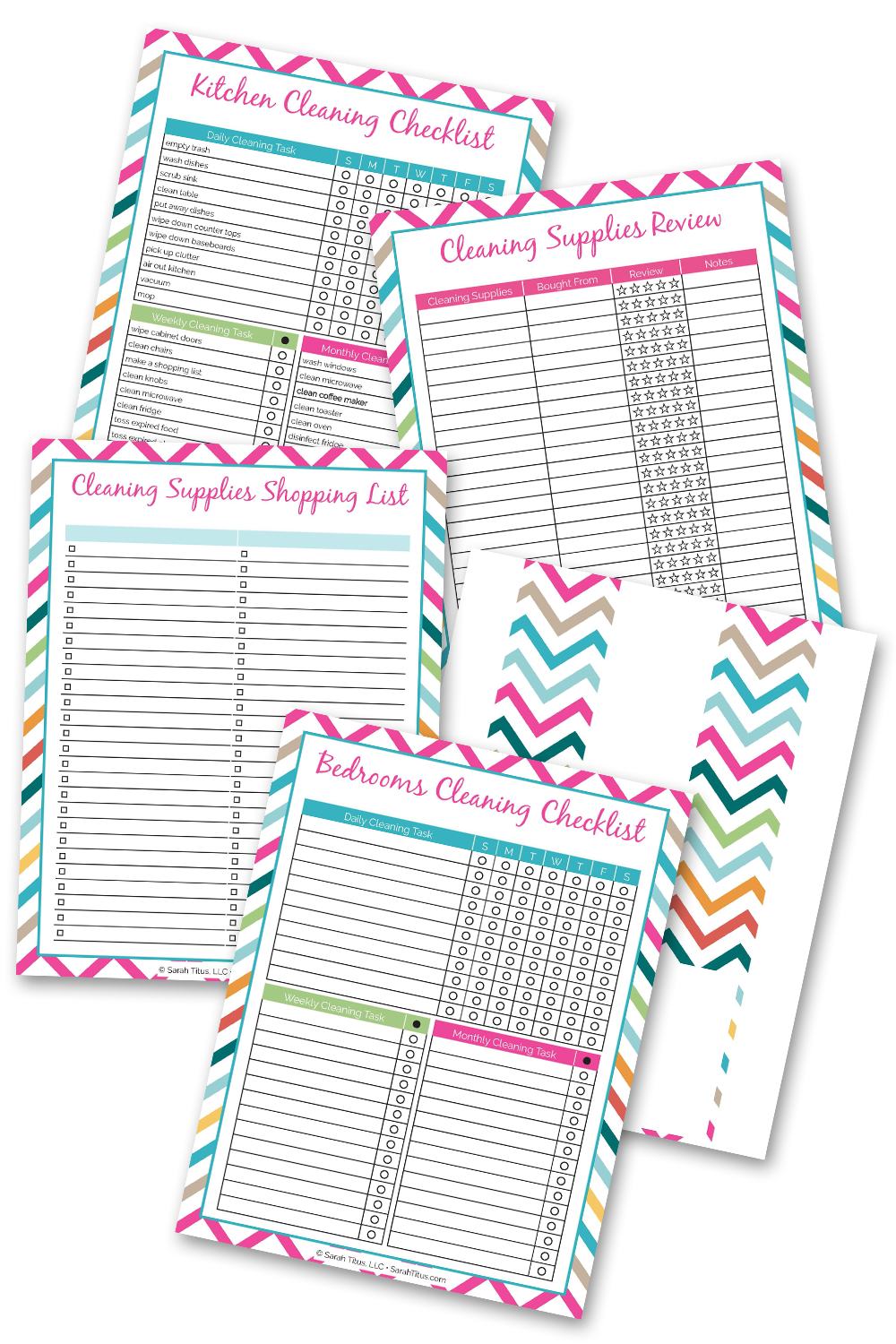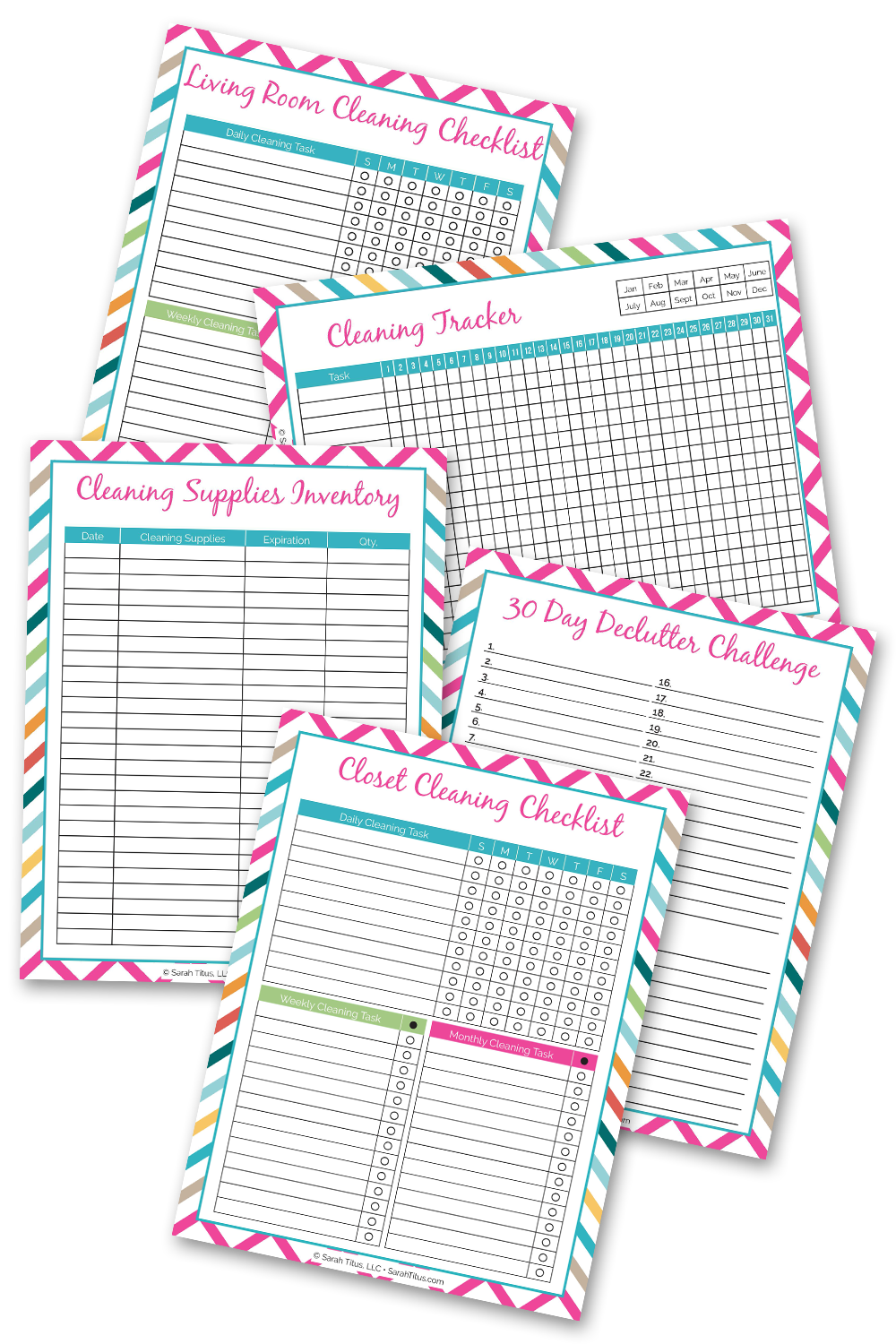 Well organized
This binder is so well organized, which is important for me to have my cleaning "ducks" in a row.
Love the detail
And the colors -- now I just have to follow thru with the plan!
love the colors and set up to organize my cleaning projects
Mid-recovery horder, ever so thankful for this!
As a military spouse who is constantly moving, homes don't hold as much value as things do. I've hard a hard time realizing that possessions don't bring me happiness and I have to find that within myself and my walk with the Lord. As we just purchased our first home (after 7 moves) the purging has been super hard emotionally, but very freeing. I needed something desperately to get me on the right track to get a cleaning routine done, as it feels like I am constantly running in circles repeating the same chore over and over and over. This binder helped not only me but my husband and sons, realize that not everything is my responsibility and they've got to carry their own load (of laundry)! We've got a long way to go, but we're so much further than we were. Thank you so much!
Organization
Very thorough sheets to put in your binder. Everything was thought of. After I received my download I quickly printed the sheets and placed it in my binder how I see fit for my lifestyle. Organized and colorful!